Home :: Culture & Spesifik B/F/CAK DAN NING SURABAYA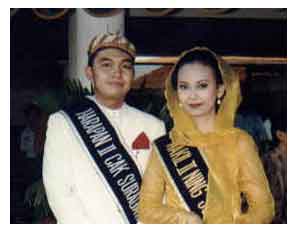 CAK AND NING SURABAYA
Cak & Ning Surabaya is a figure represent the youth of Surabaya who has the quality topreserve local culture and as a culture representative from Surabaya. The original custom of Cak Surabaya contains of a hat called udeng with 3 (three) sides of black modang putih in the edge and a assimetric poncat. A kind of blaser with the accessories :watch,parikesit,rawon or gringsing wiron sarong and a kind of slippers from Surabaya. Ning Surabaya wearing anggul, lace kebaya and vail, pesisiran sarong and slippers. Earing, ankle bracelet (binggel), gold bracelet,pins,eyeliner and henna as the accessories.

Back To List ...