Home :: Culture & Spesifik B/F/PENGANTIN SUNAT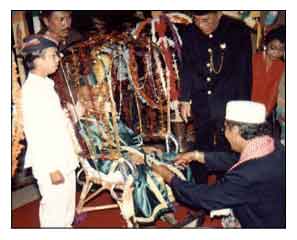 THE CUT OF THE MARRIED COUPLE
The cut of the married couple, is a ceremony to cut the boy's sex to make him grows old and to gives a sign than he has been grown up. This show can be seen on the edge of Surabaya. The boy who has been teeneger has his sex cut, then he was brought around the kampoong by palanguin, Thrn there is usually some one who stop them using a piece of bamboo. This can be opened after being given some money.

Back To List ...